Rockwind Community Links Ranked by Golf Digest as One of the Best Courses in New Mexico
Hobbs, NM (June 19, 2017) – Golf Digest's 40th annual Best in State course rankings were just published and Rockwind Community Links makes the list for the first time at No. 8 in New Mexico.

The Andy Staples design has received numerous accolades from leading industry publications including: one of Golf Digest's Best New Courses of 2015; a Top Five New Golf Development in the World by Golf Inc. Magazine; and a 2017 Best Courses You Can Play recognition by Golfweek. The United States Golf Association singled out Rockwind for breaking the mold and being more than just a golf course with a special video entitled "A Model Muni: Rockwind Community Links."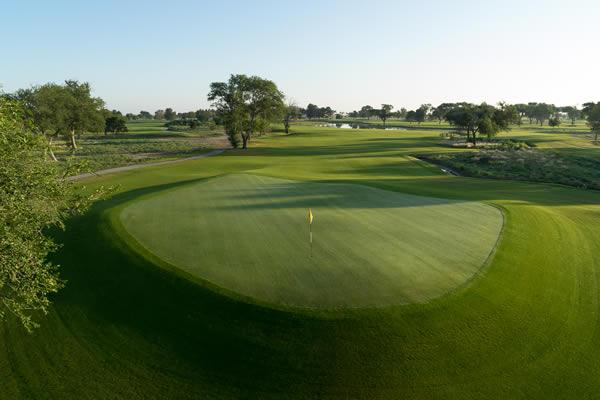 11th hole
Credit Tony Roberts Photography

The facility is considered a trailblazer in uniting golf with the local community. "Community Links" is a concept introduced by Staples and expanded by City Manager J.J. Murphy where the focus of the entire project was to link the golf course to the fabric of life in Hobbs. A special feature is a surrounding trail system complete with multiple trail heads, various outdoor seating areas, picnic spaces and scenic viewing points, including access to the site's five acre lake that overlooks the golf course.
"As a municipal manager, a primary focus is to get the best return on our investments, and this can come in many forms: enhanced quality of life, increased number of rounds, increased utilization and participation in our programs, or a combination of all of the above," said City Manager J.J. Murphy. "Being recognized #8 in the 'Best in State' rankings by Golf Digest is a perfect example of a high return on the city's investments. The dedication and hours of work from staff, volunteers, and elected officials to this investment is still paying off through recognition and the number of visitors who still recognize our crown jewel. Whether visitors to Rockwind Community Links are golfers or non-golfers, it will be a special place for everyone."
Murphy refers to his vision that began years ago and was put into action with the approval by the Commission in 2013 to move forward with a redesign and reconstruction of Ocotillo Golf Park. The first steps of the process included creating a volunteer committee of community members to assist with the important framework decisions, such as what the concept for the new course would be, how the transition from a functioning golf course to a construction site would take place, what the new course would be called, and much more.
The committee and administration's selection of Andy Staples as the course designer would prove to be one of the most important decisions of all, as Staples pitched the initial idea of the "community links," and Hobbs has now become the first example for the innovative concept across the country.
"Rockwind Community Links is a solid blueprint for the future success of growing the game of golf in a community," said PGA tour professional and champion Fred Couples, who learned to play golf on a public course and was one of the featured guests at the Rockwind grand opening. "The vision and leadership of the team delivering this jewel was amazing. You're not going to see many public facilities like this in the country – it's just phenomenal."

About Rockwind Community Links

The main course, which offers five sets of tees with playing lengths ranging from over 7,100 yards for the accomplished player down to approximately 4,200 yards for the forward "express" tees, has been designed to embrace the flat nature of the southeastern New Mexico landscape, keeping irrigation to a minimum and the turf fast and firm. The design provides challenging features such as large elevated greens, disguised bunkers and interesting ground contours.

Architect Andy Staples has incorporated characteristics typically found on courses along the eastern seaboard of the U.S. built during the turn of the 20th century. Rock walls line fairways and a large interior lake is in play on a few holes that attractively punctuates the course routing. The 9-hole par-3 course called Li'l Rock is meant to complement the dual-ended practice range and short game area. It was built to facilitate walking, families, beginner golfers and kids. The length of shots ranges from a sand wedge to a driver. Rockwind Community Links also is a site for The First Tee of Southeastern New Mexico.

Media Contact:
Pat Norton/Jane Dally
On Course Strategies
(203) 454-0232
This email address is being protected from spambots. You need JavaScript enabled to view it.
This email address is being protected from spambots. You need JavaScript enabled to view it.